Welcome to Ozaeros Team Members
There is some general information about Ozaeros here.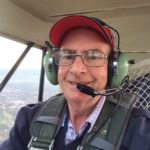 David Pilkington is the 2019 Instructor of the Year awarded by Australian Flying Magazine and the Royal Aeronautical Society Australian Division …. read more.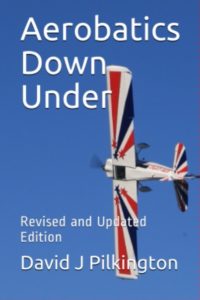 David's book, Aerobatics Down Under, includes everything about flying aerobatics in the Super Decathlon including how to win aerobatic competitions and information for aerobatic instructors.
Purchase the paperback version at Amazon or from Skylines at Moorabbin Airport. Now printed also in Australia so the price has been reduced – check it out at Amazon AU.
Purchase the Kindle version at Amazon AU, Amazon USA etc.
Part 141 Training Information
The website is being restructured in anticipation of gaining a Part 141 approval as a single-person instructor. This website will provide resources for these specific courses as an extranet for students.
Courses for the following flight instructor training endorsements are planned:
design feature
spinning
aerobatics
Start at the Ozaeros141 page.
Part 61 Training Information
Have a look around the pages for information on courses available for flight activity and design feature endorsements. More information supporting the training is provided on password protected pages for trainees.
Much of the training information has been for the Super Decathlon with a bit of information on the Pitts S-2A but now, with the joint acquisition of VH-DAJ, there is also information about the Pitts S-2C. Cessna 152 Aerobat VH-HEZ has been acquired by Ozaeros so there is now information on that here too.
Join Ozaeros
Sign up to the Ozaeros Newsletter at the Subscriptions Page.
You'll also want to sign up to the Ozaeros Aerobatics Facebook Page. The Ozaeros Facebook Group is still going for the odd private discussion. Now on LinkedIn at https://www.linkedin.com/company/ozaeros/.
There is provision for people to be registered at this website and this will provide access to the free online courses and to make comments on a number of the pages. Contact David to set up an account.
Articles and Blog
David's articles, discussion papers and rantings are all online at http://aerobaticsaustralia.net/ and https://www.ozaeros.net.au/guff/ with the historical blog at http://davidjpilkington.blogspot.com.au/
Aircraft Bookings
Super Decathlon VH-UPG is only available directly from Ozaeros and booked online – contact David for access at http://www.ozaeros.com.au/contact-us.html
Pilots will need to sign the hire agreement prior to access to the UPG.
Cessna 152 Aerobat VH-HEZ is only available through the Peninsula Aero Club.